Shopping Cart
Your Cart is Empty
Thank you for your business!
You should be receiving an order confirmation from Paypal shortly.
Exit Shopping Cart
Our Local Grocery Suppliers
Rusticana brings all things local under one roof. We consider our local suppliers our partners. We promote and love their products and we are happy to share their stories. We are continuously amazed at their level of commitment to their craft and the love they put into each and every batch they produce. See below for some of our local suppliers and click on the links to go to their website and learn even more about their stories.
Fedora's Cakes and Bakes is founded by a passion for fine, customized cakes and baked goods, supporting Vegan and all dietary requirements.
Fedora's Cakes and Bakes has been committed to serving up delicious goodies to all of their customers. They create top quality, imaginative and delicious baked treats, and make sure to respond positively to the needs of their customers.
We are proud to announce our partnership with Fedora's Cakes & Bakes, supplying us with locally made sourdough, pastries and gluten free baked goods!
Visit their website for more information.
Eclipse Coffee Roasters is a specialty coffee roaster based in the picturesque mountain town of Canmore, Alberta.
Established in 2014 with the goal of not only sourcing and roasting exceptional coffee but also to provide a personal touch with great customer service.
Visit their website for more information.
Honest Dumplings was born when two people decided to abandon the security of their office jobs and try to make the world a more honest place. Starting with mealtime.
No fillers or artificial preservatives. Just fresh, local ingredients in seriously honest packaging, shared with the world by real people named Chris and Ray. At the farmers market or in the freezer aisle, that's Honest Dumplings.
Visit their website for more information.
The Go Tu is founded in Calgary, Alberta.
They take pride in providing authentic Vietnamese spring rolls and mouthwatering sauces using their family recipes that have been passed down for half a century.
Their products are handmade with quality fresh ingredients, ensuring only the best of the best.
They are your Go Tu Vietnamese Kitchen, a taste of true tradition from their family to yours.

Visit their website for more information.
Wild Grazing is founded in Canmore, Alberta.
Jayne, the founder, is originally from the UK, but has found her place in Canmore, cooking and creating tempting foods.
Wild Grazing offers a selection of desserts, baked goods and grazing boxes, with local and quality ingredients.
Where possible she uses compostable or reusable containers and is hoping to eliminate plastic from the packaging altogether. Individual desserts are presented in glass mason jars which can be returned to her for reuse and the platter base is a compostable material.
She is developing a small selection of breads using Alberta organic flour from Highwood Crossing in High River.
Visit their website for more information.
Ohana Estate Coffee took their knowledge and passion for coffee, combined it with their family's love of the Hawaiian Islands and created Ohana Estate Coffees (after 2 decades in the coffee industry).
Ohana means family. With every delicious sip of Ohana Coffee you are supporting a local Alberta family - From their Ohana to yours - THANK-YOU!
At Ohana Estate Coffee they want everyone to enjoy their next coffee - they bring together amazing coffees from sustainable farms and roast them to perfection. Why do they do this? As a young Edmonton family they found life was busy and stressful and having a great coffee can help start your day off well, be the pick me up needed in the afternoon and the calm at the end of a work day
Visit their website for more information.
Piggito's Kitchen is founded in Canmore, Alberta.
Owner Martin began Piggito's Kitchen with the idea of producing fresh Organic local food, ready to join you in your next adventure!
Visit their website for more information.
Glowfood Creamery was started in 2013 by owner, Julie. She has gradually grown her brand over the years and only uses the best ingredients to make their plant based cheeses.
Glowfood sources the highest grade fair trade organic Indonesian cashews, quality spices, locally grown vegetables, glacier water, pure salts and vegan cultures to bring you the best cheeses they can craft.
Their cheeses are cultured in small batches and handcrafted by the owner. To achieve optimal flavour, some of their cheeses are aged for up to four weeks. They know you're gonna love them as much as they do.
The 'cheese' is dairy free, soy free, gluten free, and GMO free.
Visit their website for more information.
The Preachy Vegan Chef is about 3 main factors: plant-based, local, and environment.
Their goal is to provide nutritious snacks using plant-based and locally-sourced ingredients while keeping sustainability in mind.
The Preachy Vegan Chef is a local business owned by 3 friends who strive to lead a healthy and balanced lifestyle.
They realized one day that the market has limited plant-based and gluten-free snack options that provide satisfying flavours as well as nutritional values; hence the concept for their business was born.
Visit their website for more information.
Drop Caramel was started by Maude, a Canmore local. This new adventure of hers was the idea her daughters. They candidly and enthusiastically came up with the business idea to finance their competitive sports. It sparked Maude's imagination right away!
She thought it would be a great learning experience for the three of them to take an idea through the process of realization. Just like that, a little dream was born to sustain themselves with the products of their own hands.
To Maude it also meant to promote physical activity, healthy bodies and minds.
Visit their website for more information.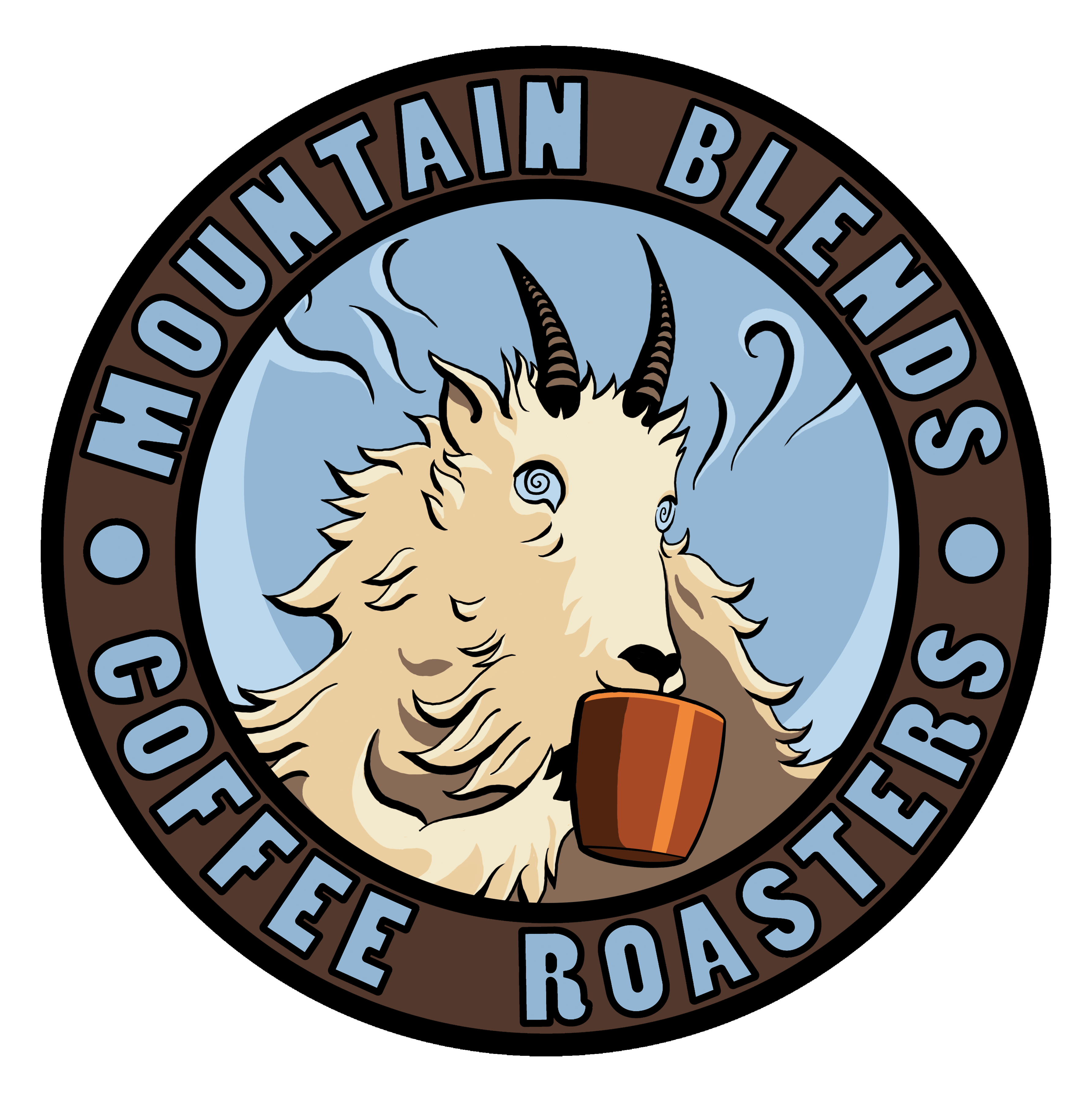 Mountain Blends Coffee Roasters offers a great selection of exceptional gourmet coffees, which are roasted daily at their coffee roasterie in Canmore, Alberta.
Mountain Blends Coffee Roasters has been supplying fresh roasted coffee to Canmore locals since 1991. They are the original Coffee Roaster in the Bow Valley.
Visit their website for more information.

Bear Bait Honey is a family owned and operated business based in southwest Calgary, Alberta. The owners mother had several beehives when he was young, and he has good memories of tagging along while she tended to her hives on an acreage just south of Calgary.
Herman started out as a hobbyist beekeeper in 2015 and has enjoyed some success and many setbacks since then. Two of his first hives were destroyed by a bear – hence the name 'Bear Bait Honey'.
He's been stung more times than he cares to remember. But beekeeping is about more than being stung. There's the endless fascination of looking at a frame of honey crawling with bees who are just going about their business. Herman says "I never get tired of that."
Visit their website for more information.
Canmore Pasta Co. provides fresh pasta made with wholesome ingredients to local restaurants and stores in Canmore, Banff and surrounding areas. From their Fresh Fettucini, Ravioli and Tortellini to their homemade lasagnas and sauces.


Their pastas are made with 100% Canadian grown Durum Semolina and fresh eggs. We do not use any preservatives or stabilizers.
Canmore Pasta Co. has been providing fresh pasta to the Bow Valley since 1999. Originally known as "Pasta to Go" it became "Canmore Pasta Co" in 2012.
Visit their website for more information.
Rocky Mountain Flatbread Co. is constantly searching for fresh, in-season produce from local urban & rural farms to feature on our flatbread pizzas.
Each pizza is handcrafted in their restaurant using only organic flours, Canadian cheeses and the freshest produce. We carry six of your favourite varieties in store and they can be found in the frozen section at Rusticana Grocery.
Visit their website for more information.
The Grizzly Paw Brewing Company is a brewpub located on Main Street, in the Canmore (just down the road from us).
The Grizzly Paw Brewing Company brews numerous beers throughout the year, that are offered on tap alongside their seasonal beers.
In 2005, six micro-brewed sodas were added to the portfolio.
Visit their website for more information.
Banff Roasting Company roasts their beans like the pioneers did, by going back to how coffee was meant to be enjoyed, freshly roasted and infused only with fresh Rocky Mountain air!
No hustle and bustle here folks, just Darn Good Coffee!
Visit their website for more information.
Bow Valley BBQ Inc. is a family owned and operated Food Manufacturing and Food Service Consulting company producing Alberta made Gourmet Sauces and Condiments based out of beautiful Canmore, Alberta.
Bow Vall​ey BBQ believes in the use of natural, high quality ingredients and a deliberate absence of, high fructose corn syrup, preservatives and artificial flavours. There is also no gluten in any of their product.
Visit their website for more information.
Village Cheese is a small family-owned cheese company, who take great pride in making artisan cheese. Their cheeses are made from local whole milk from the Okanagan Valley and natural ingredients only.From pasteurization to packaging, it is all done at their cheese plant. Their cheese recipes are unique to their company and their cheese makers are some of the best in Canada.
Village Cheese also makes certified organic cheeses and are federally licensed.
All their cheeses are rennet free, have no added moisture and are FREE FROM: modified milk ingredients, additives and preservatives.
Visit their website for more information.
Le Chocolatier's lovingly crafts their fine chocolate creations by hand, using only the freshest ingredients and the finest Belgian chocolate. Their chocolates are preservative-free, visually beautiful and have crazy-good flavour profiles. Some see chocolate as a luxury, but we feel it should be part of every-day life.
They create their chocolate confections at their independent chocolate shop in Canmore, Alberta.
Visit their website for more information.
Mad Dog Cafe & Market owner, Russel, was born in England and has been living in Canada for over 20 years, Russell's interest in Indian cooking comes from his dad who was born and raised in India. His Grandmother was Burmese and Russell spent much time as a small child hovering around the kitchen. The ultimate compliment for Russell today is a comparison to his Grandma's curry.
He is proud to say that he received the "thumbs up" from the British Army's Nepalese Ghurkas, world renown for their curries.
Russell has had the pleasure of cooking for many British Soldiers over the campfire on his dog sled expeditions. Nothing like a good curry on a cold night out on the trail!
Visit their website for more information
Valbella Gourmet Foods was established in 1978 by Walter and Leonie von Rotz in beautiful downtown Canmore. What began as a small 1,000 sq.ft. plant has progressed over the last 30 years into a 40,000 sq.ft. production plant overlooking Canmore's Three Sister Mountains.
The European style sausages, hams and air dried meats quickly found their way into Banff's famous Hotels and Restaurants, and can now be found at gourmet dining establishments, fine hotels and first rate food markets throughout Alberta. Valbella's commitment to excellence paired with its European tradition and simple love for fine food, has allowed it to stand out as one of Western Canada's most recognized meat processors.
Walter's constant product innovation and keen market sense keeps customers and top chefs awaiting new and tantalizing products, whether they be for a gourmet menu, or simply for a backyard BBQ party.
Visit their website for more information.
Galimax Trading Inc. was incorporated in 2001 and has built a customer base and lasting relationships in the city of Calgary, Canmore, Banff and Lake Louise.
Galimax takes local marketing to an entirely new level and focuses on "Bringing the Best from the Best to the Best." This means taking fresh local Alberta food from the best farmers and growers, and bringing it to customers who demand quality local goods.
Galimax Trading expanded and built a CFIA approved warehouse in Nobleford, Alberta to serve their customers better and help sustain growing demand for fresh local and organic goods. This warehouse consists of a CFIA approved Registered Egg Grading Station A-7, which gives Galimax the opportunity to serve a new growing market.
Mans Eggs was started in late 2011 and now markets eggs grown and graded in Alberta alongside the fresh produce, milk, oils, berries, potatoes and many other items.
Visit their website for more information.
Bamboo Dumplings founder Carrie Liu, has a passion for creating and sharing simple, tasty Chinese food.
She grew up in a family restaurant in China surrounded by delicious food and started learning how to make authentic, Chinese dumplings with the chef when she was just twelve years old. This was done in her parents' Dumpling House in Harbin, China using her grandparents' famous recipe.
Her love of sharing the best Chinese dumplings and spring rolls using simple, fresh ingredients without MSG, is a passion that resulted in the creation of BAMBOO DUMPLINGS.
Visit their website for more information.
Bone to Broth was started by two moms from Okotoks, AB that wanted to provide their families and those around them with real foods that nourish and cleanse theirr bodies NATURALLY.
They started doing this after noticing how often people around them were unaware of the benefits of clean eating, collagen, and the amino acids that are found in gut healing bone broth.
This is why they are proud to source their bones from certified grass-fed farms right here in Alberta. They work closely with ranchers that are passionate about raising happy animals that have been ethically and humanely raised.
Visit their website for more information.
Vumami Foods product Umami Bomb was created through a process of (nearly) endless trial and error and the careful blending of eastern and western spices and shiitake mushrooms.
Whether it's weeknight leftovers or a gourmet meal, a tablespoon or two of Umami Bomb adds a unique and irresistible quality to any dish. Our customers (both vegan and non) tell us that it's so tasty and addictive they add it to almost anything!
Vumami Foods was founded in Osoyoos, BC and is now made in Sidney, BC on beautiful Vancouver Island!
Visit their website for more information.
Sabores translates to​ "flavours" and was founded to represent all the sophisticated textures, ingredients, and colours that comprise Mexican cuisine.
Sabores seeks to share with the world a piece of a culture that has lasted for generations on end. Their goal is to share the magic of Mexican cuisine combined with contemporary culinary techniques while leaving time-honoured culinary traditions intact.
Visit their website for more information.
Bare Bistro stands for making food at it's simplest form.
Tucked away in the Industrial part of Banff.... Bare bistro was started by Germaine in December 2012, with one thought in mind... That they were going to make Cookies, cause everyone loves a good homemade cookie! Some of which are family recipes that have been tweaked a bit.
She also offers Energy Bars, Banana Bread, Lemon Loaf and Brownies! All Bare Bistro products are always made with the best ingredients possible.
Feeding the World One Cookie at a Time!
Lone Pine Farms have been farmers for the last 500 years following the footsteps of their forefathers. When it comes to farming, they constantly strive to be good stewards of the land so it is there for years to come for the next generation. Everything starts with good nutrition to grow a healthy animal or bird. They feed their birds house-grown grain that is free of animal and soy products, this is to ensure they know what they are feeding their livestock and to promote healthy growth that in turn gives their customers healthy food. With strict bio security regulations that keeps disease out, their chickens can grow well without medication, hormones or antibiotics.
Their birds are raised over a period of 7 to 9 weeks free run, and develop in outdoor pens from May to November. The chickens simply enjoy the great outdoors of Alberta, breathing only the fresh blue mountain air, in low populated countryside. The end result is a juicy, tasty and nutritious chicken!
Visit their website for more information.
Hear Me "Raw" is a raw food company creating premium products that fuel your body with clean ingredients.
Hear Me "Raw" was started by Rae-Lynn after a trip tp Costa Rica. She was inspired by the variety of superfoods and decided to create small-batch "goodies" packed with superfoods. Everything is hand-made in Canmore, AB, superfood-infused, created with intention and delicious. They use organic and locally sourced ingredients of the highest quality to maintain the integrity of their products.
Visit their website for more information.
Ambrosial originates from Latin meaning 'especially delicious'. They started this journey to bring their unique cheesecake to cheesecake lovers that have tried it all.
It began with a family recipe that has been passed down through generations and the desire to enjoy the tastes of childhood again. After experimenting with a few variations and learning to make their own cheese, they have refreshed this traditional and well loved dessert. Local ingredients were sourced as well as unique packaging to present a unique product.
Their cheesecake starts by handcrafting cream cheese, in small batches. The dairy is selected from Canadian farmers and beet sugar which is grown and processed in Taber, Alberta. The eggs are sourced within Alberta as well as a few other wholesome ingredients. Put them all together and you get the smooth, light and luxurious cheesecake known as Ambrosial Cheesecake Shop. You have not had cheesecake until you have had this one!
Visit their website for more information.
Jenny's Delectables was established in May of 2016 and began the production and sale of Gourmet Stuff'd Potatoes. Creating an all natural home cooked product that quickly grew in popularity throughout Southern Alberta.
Available only in Farmers Markets for the first 2 years Jenny's found a new home on the shelves in many stores in Southern Alberta and garnered the attention of larger grocery store chains such as COOP, Sobeys, and Freson Brothers. Currently in over 40 stores reaching as far North as Fort McMurray and South to Lethbridge, Jenny's is growing at an incredible rate.
Jenny's Delectables is committed to local growers, the absolute freshest ingredients available, and supplying the highest quality product possible. With the head office in Calgary the growing demand for their products is a testament to their unwillingness to waiver from the highest standards.
Visit their website for more information.
Seedz Crackers are wholesome, crispy crackers made up of certified organic sunflower seeds, pumpkin seeds, flax seeds, psyllium husk and a little Himalayan salt. That's all. What you see is really what you get!
My search for good, all natural food for my family led me to experiment. Family and friends loved the results so much that literally, from a few tiny seeds, a business idea grew.
Seedz founder is motivated by adding value to people's lives by supplying them these genuinely healthy crackers with no hidden fillers, colours or additives. Seedz Crackers are just what we say they they are. Gluten and wheat free, sugar free, dairy free, nut free, soy free and of course, guilt free.
This nutrient rich, power food is perfect to snack on while you work or play. Seedz Crackers can be enjoyed out of the packet as an 'on the go' snack or to add some variation, top them with your favourite cheese, hummus, antipasto or relish. Have a sweet tooth? Try them with jam, honey or nut butter. The possibilities are endless.
Enjoy your Seedz Crackers, they are handmade in small batches by people who really care.
Visit their website for more information.
Dwarf Stars was started by two Calgary-based entrepreneurs (Kat & Gerrit) and has been operating since 2018. They are now selling in 140 retailers across AB, BC and ON.
Gerrit is a red seal chef with over 13 years experience in the culinary industry while Kat has a background in business and marketing.
"Dwarf Stars Originals" was our first product line which looked like little space rocks (now discontinued). In brainstorming astrological terms we found Dwarf Stars. These are stars that don't look exactly like the other stars, or shine as bright, but still in their own right are classified as stars. The really cool thing is that Dwarf Stars can actually be incredibly powerful when pairs of them coalesce (or come together) - they can even create a supernova or large stellar explosion!
They loved this metaphor that reached beyond their friendship (going on 12 years), beautifully capturing the brand messaging, heart and soul behind our new endeavour. We believe this message of inclusivity is more important today, than ever in our crazy world - that no matter what the outside looks like, what truly matters is on the inside.
That's why they use wholesome, natural ingredients like organic dry-roasted pumpkin seed butter and handmade chocolate made from cocoa mass and cocoa butter. All of their products are vegan, free from the top 10 food allergens with 2 sugar-free (keto-friendly) lines
Visit their website for more information.
An Edible Life has been open in Canmore since 2014, creating healthy and nutritious prepared meals as well as supplying several cafes in town with baked goods.
An Edible Life uses the healthiest and highest quality ingredients available with a strong emphasis on local and organic whole foods. As a Nutritionist, Carole (who owns and operates An Edible Life), wants to make sure those who are too busy (or don't want) to cook are still eating well to keep them healthy while staying active.
They offer a wide range of meals from soups, curries and shepherd's pies to healthy treats such as Cashew Cookies, Beet Velvet Cookies and Goji Cacao Balls.
Visit their website for more information.
Saltspring Soapworks was started by the founder as she was unhappy with common soaps, Linda crafted an alternative as a solution. She grew ingredients, conducted experiments, and refined her recipes. In 1979, she founded Saltspring Soapworks. This led to local interest in her soaps, which spread around the world.
Her business expanded from the kitchen to the barn—and eventually into a small factory. In time, she also introduced skin care options, and opened a few retail shops. In 2012 Linda asked her son, Gary, and his wife Amber to take over operations.
Since then, they've worked to honour Linda's legacy and values. She believed in being environmentally conscious, staying small and supporting the community. Amber and Gary also introduced new systems to ensure quality and purity in all of their products.
Saltpspring soaps and skincare products are made on Salt Spring Island. Their team formulates, sources, mixes and packages each product by hand.
Visit their website for more information.
JK Bakery unlike most commercial bakeries, does not use any preservatives in any of their breads. Their breads are all made by hand right here in the Bow Valley with the best ingredients.
Since JK Breads don't have the additives and preservatives used by most commercial bakeries to extend their shelf life they may have a shorter shelf life than what you might get from the supermarkets. They suggest the following to store your JK breads:
- If the bread is crusty, store it in a paper bag, a towel or a bread box at room temperature. This will allow it to breathe and retain its crust.
- If your bread is soft, store it in a plastic bag or container at room temperature to keep it soft. You can always freeze your fresh bread for use at a later date.
Visit their website for more information.
Evoolution has a goal to inspire you to discover the world of olive oil through better taste and health.
Evoolution stands for the evolution of olive oil. Extra virgin olive oil is among the most widely studied foods shown to be beneficial to our health. It's linked to longevity, disease prevention, and well-being, and it also happens to be wonderfully tasteful. But there's a divide between what you'll find down the cooking oil aisle of supermarkets, and what is truly healthful and tasteful extra virgin olive oil. That divide usually comes down to freshness – olive oil is much the same as any other fruit juice, and it's best when it's fresh.
Fresh olive oil means olives picked and crushed within hours, stored and handled with care, and resupplied every six months by taking advantage of the harvest in both the northern and southern hemispheres. Your own sensory experience is the best judge of freshness, and that's the reason we invite you to try before you buy at our tasting bars.
Evoolution values putting quality first, innovating to bring you the best olive oil experience, and engaging with you to educate and inspire new ideas for great food.
Visit their website for more information.
Vresh Foods was started by Vresh as a way to show authentic Indian food.
He was tired of the way ghee has been marketed in North America. It's always been "Ayurvedic"-this and "Yogi Princess Warrior"-that.
Vresh still believes that ghee is extremely healthy, though it is not a "Health Food" - It is an everyday staple that deserves a spot in your pantry!
Indians have used Ghee for over 3500 years, and while there are numerous health benefits to including ghee in your diet, the real reason it has stood the test of time is because it TASTES DELICIOUS!
Whether you spread it on toast, sear your steak, fry up some veggies or 'bulletproof' your coffee, enjoy Ghee the way it was originally intended: As a part of everyday life!
Visit their website for more information.
De Minico's is about family first and foremost. They are proud to welcome everyone into their store, to try their delectables, and to share a story or two.
De Minico's mission is to provide high quality food that all members of your family will enjoy.
They guarantee to deliver their family's values through nutritionally wholesome fresh ingredients with no additives or preservatives - food you can trust.
De Minico's is a family operated business, serving their father's recipes originating straight from Italy.
Visit their website for more information.
/